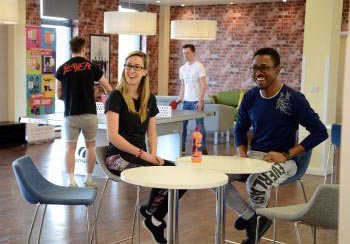 Starting university seemed very daunting and I didn't know what to expect moving away from home. I was a quiet and shy individual who had always been a "home bird", so much that I considered living at home during my university experience… and I'm so glad I didn't!!!
For my first year, I lived in the brand-new Trinity Square over in Gateshead. I chose to live in Trinity Square due to the fantastic facilities it has to offer, particularly the fitness suite and study areas. I also loved having everything I needed on my door-step including the huge Tesco's! The staff were also incredibly helpful and friendly, they were always there to offer advice when needed, which is the assurance you want when moving away from home. I settled in very quickly and soon decided that I wanted to stay in student accommodation for my second year.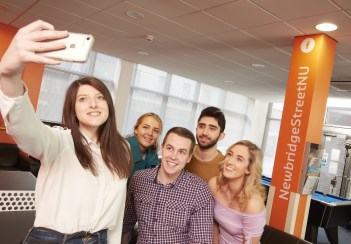 For my second year, I chose to live in New Bridge Street Residence, mainly due to how close it is to the uni (I can make it from my room to the business school in approximately 3 minutes!). I was unsure what it would be like to live in halls during my second year however I couldn't have made a better decision. Moving into halls second time round I was a lot more confident and had more of an idea of what to expect.
I became close friends with my other 3 flatmates who were all in second year too so we all helped each other out, as well as enjoying the social aspect of halls too! The WiFi and the close proximity to the library meant I could easily get my work done. I enjoyed living there so much that I booked the exact same room for my final year, after undertaking a year's work placement in which I lived at home for the year.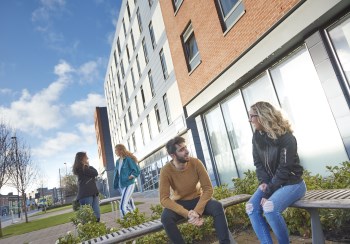 I was so excited to be back in my room for final year. I wasn't living with my last flatmates as they had all graduated therefore it did seem very strange back in the flat with different people! (Northumbria does allow you to choose an exact flat and room so you can be with your friends if you like- which is brilliant!).
This time I was placed with 2 second year students and a fresher, I thought this would affect my studying however we all gelled so well. It shows that accommodation really is for any year student from any background.
I never thought I'd spend my whole time at university living in student accommodation but I'm so pleased I did as I've created amazing memories and made friends for life. Northumbria accommodation really is a "home from home" and I will be sad to leave when I graduate in July.