Have you ever wondered why so many students choose Newcastle as their place to study?
Students across from the UK come here to see the beauty of the North-East and of course to have a great taste of the night life but there is much more to it.
1. Our campus is near the city centre
Some of you might think that our university is based outside the city but in reality, we are based right in the heart of Newcastle city centre. It only takes around 5-8 minutes to walk. I enjoy this fact because in my spare time between the lectures I can go to my favourite restaurant or cafe and be back within 30-40 minutes. Sometimes you might have a 3-4 hour window between your lectures and you can simply go to cinema to watch a movie.
2. Outstanding university facilities
What I like about Newcastle is the university facilities that have been offered by the Northumbria University. First, it has great industrial equipment: Bloomberg terminals, high end PCs and Macs, engineering machines and many more. Also, Sport Central in Northumbria is known to be one of the best in the UK. We have swimming pools, sauna, gym, climbing walls, squash courts etc.

Recently, new additional library was built with very nice design and comfortable areas to study. I enjoy spending time here doing things like personal or do university studies. Back at home there is too much of a distraction and I find it quite hard to focus as its quite noisy at my place.

3. Great night life
Night life in Newcastle is known to be one of the finest in UK, thanks to many clubs and bars. Also, due to high demand from students some of the bars work 24/7 and other clubs have acquired additional licence to operate longer, up until 4-5am.
4. Jesmond Dene park
If some of you are nature lovers like me, make sure you check out 'Jesmond dene park'
This is a very nice place to have a walk and dive deep into your thoughts. I find this place relaxing, besides, you can have a nice lunch near the small water fall.
5. Historic sites and artworks
Newcastle is known for its beautiful artworks which has world famous reputation and attracts many tourists every year.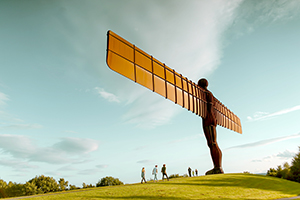 This piece is one of England's official icons. More than 90,000 people visit it every day or one every second, this makes Angel of the North one of the most viewed pieces of art in the world. Also, it is the biggest angel sculpture. When I visited Angel of the North for the first time, I was shocked by its magnificence and sense of freedom it gave to me.
Cathedral Church of St Nicholas
If you're religious person or just want to feel the presence of holy spirit in your life, then definitely visit Cathedral Church of St Nicholas. This cathedral was found in 1091 and was rebuild many times due to fire and other attacks. It is completed in Perpendicular style of 14th century. A truly fascinating experience!
Personally, this is my favourite place in Newcastle and in my opinion one of the best. I enjoy having a coffee, while sitting on the bridge and see rowboats are passing by. During the night time, it is beautiful over here and many bars and cafes makes this place an amazing experience.
6. Proximity to North Sea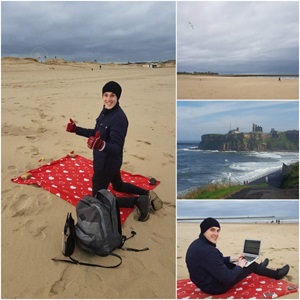 As I'm from Belarus, I've always dreamed of living near the sea or ocean. We only have lakes and rivers in my country which I miss it a lot. If you want to see North Sea, it will take only 20-35 minutes by train. Literally, you can go there every day. Sometimes, I do my work right on the beach. South shields has nice sandy beach with nice cliffs to look at.It is very common to see people running there with their dogs. This weekend I went swimming with my friends, It was a bit chilly. To be honest I don't know why I was the only one swimming.
Now, it's going to be more like a tradition – to swim in the North Sea every January
What have I learnt about the Newcastle since studying here?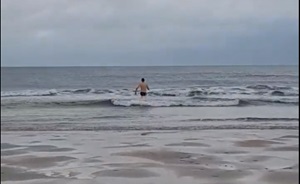 Newcastle is quite a versatile city. It has an outstanding night life but also, can be very peaceful during the day. A few years ago I used to live in Huddersfield and I should admit the weather is way better over here. It doesn't rain that much in my opinion. I think people are very friendly over here too and will happily help you if you're in trouble.
I would say that Newcastle is a place almost for everyone as you would see here high diversity of different nationalities and cultures. For students who are interested in finance, it would be great city to live in as here we have more than 15 to 20 different Investment companies you can work at.